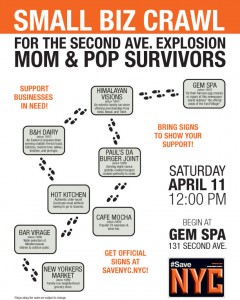 Due to the increased amount of accepted invites, we are excited to have added SIX more awesome places to our Small Biz Crawl!
After a disaster like the Second Ave. explosion and fire, impacted small businesses struggle to survive. Some don't make it. Especially the old favorites.
#SaveNYC is holding a Small Biz Crawl along Second Ave. to bring customers, cash, and attention to those mom-and-pops in most need.
Meet #SaveNYC on Saturday, April 11, at 12:00 noon. We're starting at Gem Spa (since 1957), on the northwest corner of Second Ave. and St. Mark's Place. Buy your magazines, cigarettes, egg creams at this first stop.*
From there, we'll head down towards 7th Street. Do some gift shopping at Himalayan Visions (since 1997). Then it's lunch at the B&H Dairy (since 1937), Paul's Da Burger Joint (since 1989),
Bar Virage (since 1998) Hot Kitchen, San Marzano (since 2014) or Via Della Pace (since 2001). Your choice.
After lunch, we'll weave our way across the barricades of 7th Street to stock up on groceries at the New Yorkers Foodmarket and then cross back over to unwind with an espresso or glass of wine at Café Mocha (since 2008).
Please proceed to the LES to Enz's East Village, pop-up store: 103 Allen St. (Over 25 years) Their 125 Second Ave location is still recovering from the EV explosion. Walk over to Allen St. and help support this EV favorite. You can find all the coolest outfits for the modern-day pinups and rockabillies.
Please bring your #SaveNYC sign to let everyone know who we are and why we're there. Click here to print out signs: http://www.savenyc.nyc/download-printable-handouts/
Facebook event to RSVP
*Stops along the route are subject to change. Our next one will be on a Sunday so Moishe's bakery can be included.