Our official logo is available in several sizes, from poster to postcard, and in .PDF or .JPG format. Just download, print, and distribute. Make copies on the sly at work or have them professionally printed. Put it on a sticker. Hand them out to local small businesses to display. Show them off all over town. (Designed by Mike Joyce, creator of Swissted. Check out his stuff at Stereotype Design.)
Poster Size (11″ x 17″)
Letter Size (8.5″ x 11″)
Postcard Size (5″x7″)
The following is a white-background version provided to make life a little easier for those who have anxieties or difficulties with printing a large amount of black ink. Preferably, it is only for printing at home and distributing on simple copy paper (giving to businesses, groups, wheat-pasting, bringing to rallies). Please do not have it professionally printed and do not display it electronically in any way. Thank you.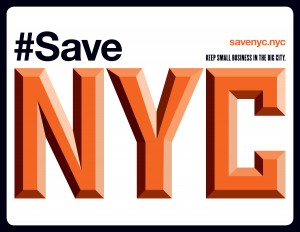 Letter Size (8.5″ x 11″)
You can also download and print the #SaveNYC Informational Flyer. Click here for the printable PDF. It's ideal for handing out to small business owners, political groups, anyone who wants more information on #SaveNYC.